Carbon Emission Reduction: An Interview with Norfolk Botanical Garden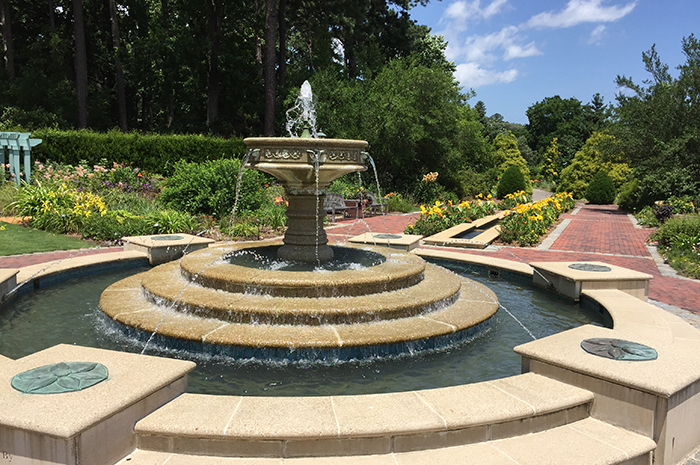 Reduction of greenhouse gases is one of the most impactful ways a public garden can address climate change. We recently interviewed Norfolk Botanical Garden (NBG) President and CEO Michael Desplaines to learn more about the garden's carbon reduction solution of transitioning to renewable energy.
Tell me a little bit about NBG's approach to CO2 reduction on campus. What types of solar panels are you currently using on your campus? How much of the campus is currently powered by solar?
NBG is committed to becoming a leader in environmental action and advocacy. We want to use our leadership to inspire others and implement solutions to the environmental crisis. We use a power purchase agreement, solar production and a HVAC systems to reduce their our carbon footprint on campus.
The energy production of our solar panels has reduced greenhouse power consumption from the grid by 61%. NBG uses 100% renewable energy purchased from Dominion Energy. 10% of our energy is produced on our campus by solar panels. Our purchased energy is a combination of 34% biomass and 56% solar energy. As of this year, we have consumed 550 megawatts of biomass energy.
NBG uses Axitec-AC-330/156 330 Watt, 72 CELL, 40 MM Monocrystalline Silicon (120) solar panels. Below is the amount of MWh produced onsite at NBG by year:
2018 – 18 MWh
2019 – 55MWh
2020 to date – 44 MWh
We have also upgraded our heating, ventilation and air conditioning system to energy efficient units that utilize environmentally friendly refrigerants. A goal of our transition was to eliminate chlorofluorocarbons (CFCs), hydrofluorocarbons (HFCs), and hydrofluoroolefins (HFOs) and the harmful effects of their production. Office buildings account for 49% of carbon load in the world and the change of refrigerants and equipment reduces the carbon footprint by 39%.

What inspired you to start using renewable energy?
The Virginia renewable energy regulations have changed since our switch, but at the time, utilizing a second party supplier was not an option. We did not consume enough energy to qualify for a switch by state regulations (5 GWh). We weren't pleased with the percentage of the three energy sources but they have become more in line with our objectives over the years. The primary reason we continued to use the Dominion's Green Power Program to foster the development of affordable as well as profitable "green energy."
How did you connect with Dominion's Green Power program, and what do you see as the key reasons to use their service?
As the energy regulations changed throughout Virginia, NBG wanted to further support the growing renewable energy industry. Dominion's Green Power Program supports the creation of green jobs, reduces greenhouse gas emissions and further helps to expand America's renewable energy resources. The primary reason that we continued use of this program is to foster the development of affordable as well as profitable green energy.
Tell us about how you've interpreted NBG's green energy usage for visiting guests. What connections have you made to the community and to individual environmental stewardship?
Nearly 400,000 visitors explore our beautiful gardens every year. Our environmental messaging is a prominent feature both in-person and on our website. Along with our website's sustainability page, our visitor center features the performance dashboard for our solar panels and a floor banner highlighting all our environmentally practices. Our popular garden tram tour points out our solar panels as the tram passes by them. Our gift shop features books on climate change and alternatives to single-use plastics.
The "Green Scene" section of our newsletter focusses on our environmental initiatives and the improvements we've made around campus, encouraging readers to follow our lead. Our robust adult educational programming focuses on environmental education. This past April, Convert Solar was scheduled to give a class on green energy but it was cancelled due to the pandemic. For the past two years, we have held a symposium focused on climate change featuring local climate scientists and city leaders.
Our engaging outreach program also allows us to connect with a broader audience within the community. Our goals are always to promote the beauty and importance of the natural world and inspire folks to action to protect this resource and solve the environmental crisis.
What advice would you give to another institution that is considering a transition to renewable energy?
We would suggest the combined solution of using a power purchase agreement and installing solar panels. Another useful recommendation is to promote your energy usage and advocate for others to follow. We would also recommend picking a reputable renewable energy company to work with and paying close attention to their advice.